We've recently launched our Dark Social Calculator that estimates the traffic coming from private channels (dark social). If you're in the dark about what's happening on your website, give it a try!
All the websites out there have a source of traffic called direct traffic. The problem is that it serves as a fallback for whatever cannot be attributed, just like the private channels. When people share our links via email or whats app and click through to the product pages or blog posts, we indeed see it as direct traffic. Google Analytics does not provide us with any additional information. We're in the dark…
We all advocate for data-driven marketing, however, in order to be able to make informed decisions, we need the data in the format that's insightful. Moreover, we might not be even aware that our data is incomplete.
Take attribution for example. Last-click attribution, although still widely used for the lack of resources, is dead. We all understand that conversion does not happen in a vacuum and that we should be instead looking at multi-touch attribution.
A potential buyer will interact with a brand many times before they make a purchase decision. So why are we only looking at the last interaction instead of the entire spectrum? And assess the success of the marketing performance based on one last click? Because it's not easy to track, that's why.
It's a similar situation with Dark Social. In 2016 there was an Econsultancy article published –  "The rise of dark social: Everything you need to know". The conclusion was not very helpful though, now that dark social seems to be on everyone's radar, however, (…) let's be honest, nobody really knows what the hell to do about it.
That's not true anymore. Getting access to that data is possible and frankly, quite easy with the right tools. To shed some light on the traffic your website gets from private channels, we launched a tool called Dark Social Calculator, so you can see the estimates of the traffic from private channels.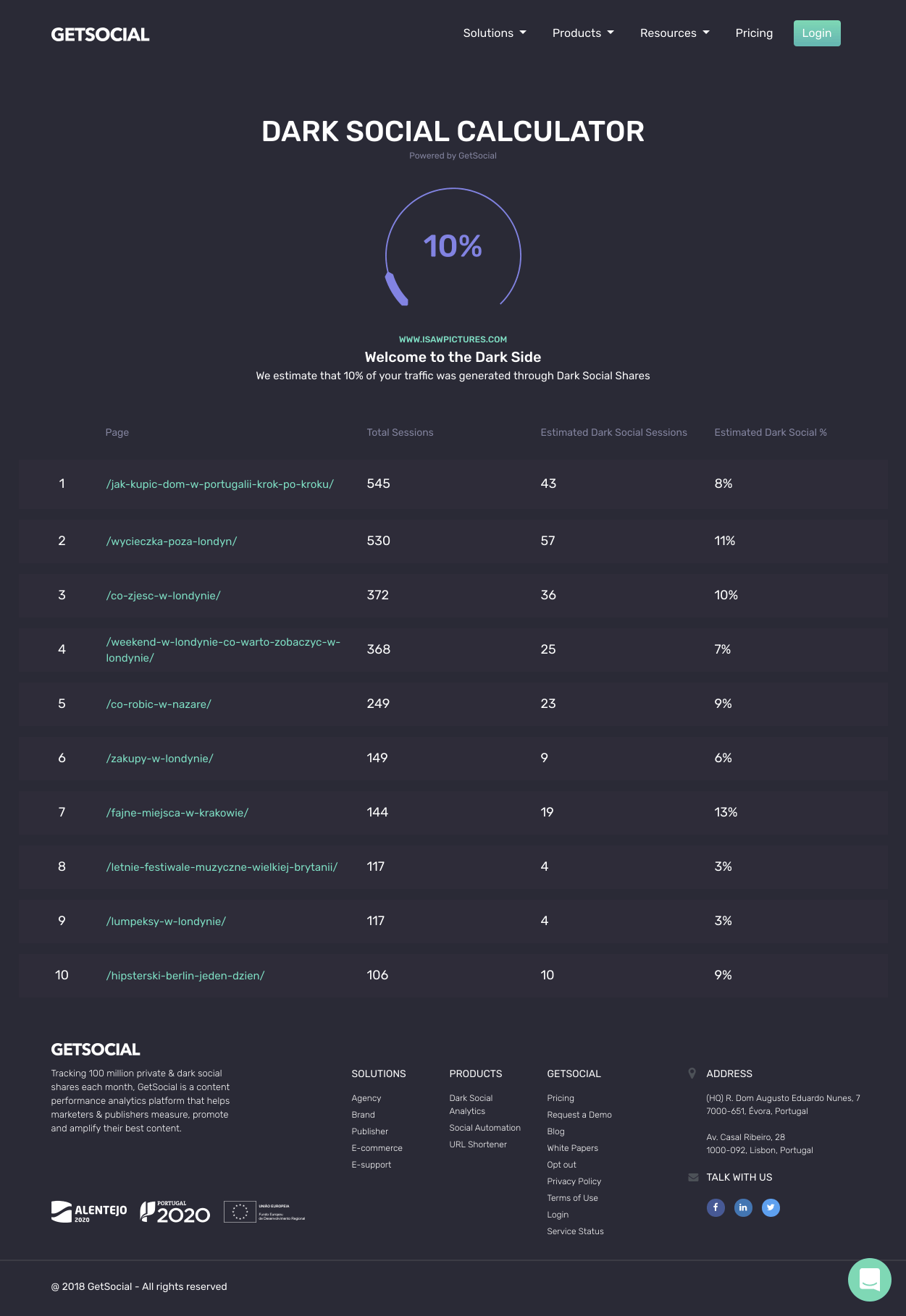 How does that work – step by step?
> Open Dark Social Calculator – click here 
> Enter your business email
> Sign in with Google – to connect to your Google Analytics account
> Choose your Google property
> In the meantime we will fetch data and estimate Dark Social Traffic
> Get your estimated data!
Our Dark Social Analytics offer more in-depth analysis, real-time monitoring and virality score tracking, among other things. If you have dark social traffic coming to your website, you can sign up for a free 14-day trial.
---
Interested in knowing more about Dark Social & Analytics?
[su_button url="https://getsocial.io" target="_blank" style="flat" background="#21D2B5" color="#ffffff" size="7" wide="no" center="yes" radius="auto" icon="" icon_color="#FFFFFF" text_shadow="none" desc="" onclick="" rel="" title="" id="" class=""]SIGN UP FOR FREE[/su_button]