You might have heard the term Dark Social before, read something about it and even how to estimate how much this traffic represents for your website (Google URL builder, anyone?). But we have a solution to track Dark Social that requires less effort and is much more effective than that.
Wondering how to track Facebook shares, copy paste share and other private networks shares? Read my step by step guide below.
What is Dark Social?
If you don't know what Dark Social is, I'll give you a quick summary:
Dark social is a term coined by Alexis C. Madrigal and refers to all of the sharing activity that occurs through the copying and pasting of URLs, which largely goes undetected by most Web Analytics programs, such as Google Analytics, Omniture, or any other application.
According to Alexis, most of these untraceable activities take place on classic sharing methods, such as chat tools, email, messaging apps and twitter clients. analytics applications consider dark social's traffic to be direct traffic, incorrectly assuming that this is the true origin of such a visit.
If you want to learn more about dark social, feel free to read all about it on our whitepaper. Don't worry, we'll wait for you!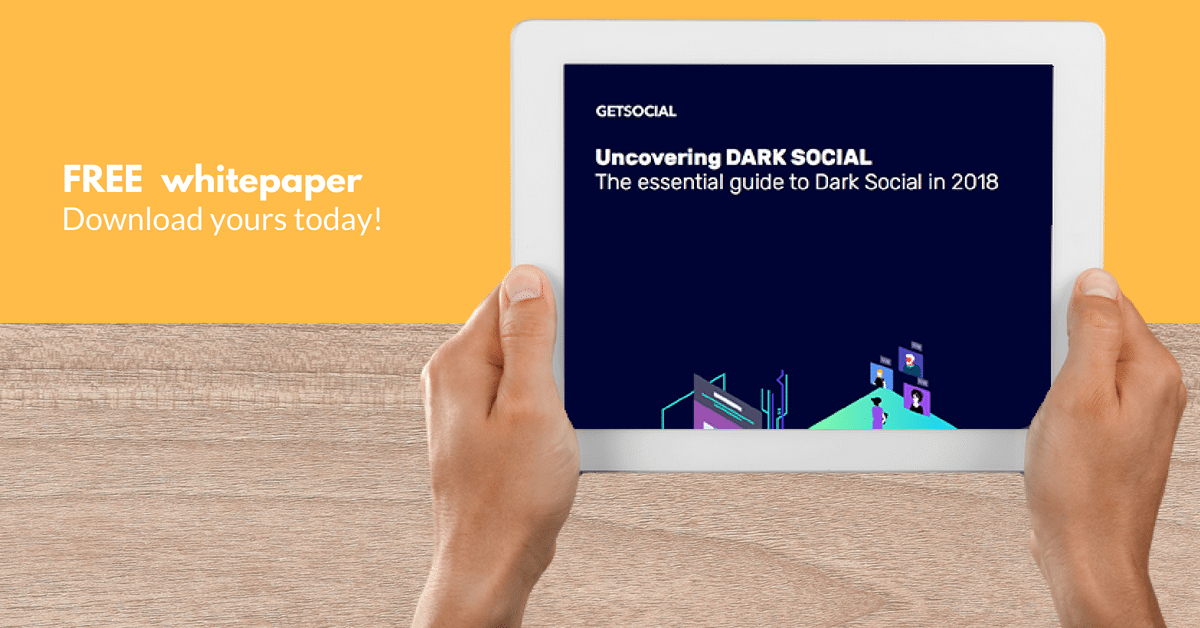 How to track Dark Social?
The good news is that GetSocial.io allows marketing professionals to correctly understand traffic origins and therefore study their behavior and conversions. In this post, I'll be sharing how to track dark social shares and explain, with data, why you should do it.
1. Create a GetSocial Account*
As you already know, it all starts with creating your GetSocial account. Just start a trial for the Standard plan and register your website. If you are using WordPress, install our plugin instead.
2. Install our Code Library
Now, you will see an alert reminding you to install our code on your website. It's quite easy: you just have to install the code before the </head> tag in your website's template. It's the exact same way as installing Google Analytics.
If you are having trouble, check our tutorial pages tutorial pages or send an email to support@getsocial.io and we will help you.
3. Track Dark Social Shares
Once your account is up and running and the code library installed, the only thing left to do is to activate the Copy Paste Share Tracking feature on your GetSocial account. Just look for the following app and click Activate:
This feature will add a small tracking code to the link of every page where you activated our tools.
This very post has a small string in the address bar (#gs.xxxxxxx) which allow us to know when someone shares it through SMS, WhatsApp, Facebook Messenger, Email… you name it.
Note: This has zero influence on your SEO, so you don't need to worry.
Another great tool we have that greatly synergizes with Copy & Paste Share Tracking is the "Google Analytics Integration" feature (also available to all our paid plans).
This allows you to really understand how the traffic coming from your social shares behaves and compare Cost per Action (or cost per conversion) of all your social promotion campaigns.
You can finally compare apples to apples (or CPAs to CPAs) when measuring the success of your content, social media, and advertising campaigns.
But why should I track Dark Social Shares on my website?
As mentioned before, Dark Social shares (or copy-paste shares) are more usual than you may think. Just think of the last time you shared something from Youtube: you probably didn't click the share button, you copied & pasted the URL address.
Or the last time you sent that cute begging cat to a friend. You certainly did not share that on your profile, you used Facebook Messenger instead.
Well, these types of shares don't have referral headers or similar identification, which means they'll be interpreted as direct traffic. And for digital marketers and social media professionals, it's awful to have poor data to base your decisions in.
Whenever a dark share occurs, Google Analytics and other similar platforms consider that visit as a direct hit. Take our website as an example:
Google tells me that in the last week, 55% of my traffic was a direct hit to my website. Furthermore, if we drill down this analysis into our direct traffic, we see that only 20% of my traffic is a direct hit to the homepage.
Personally, I don't believe that about 6,500 users wrote 60–150 character long URLs in their address bars and pressed enter, nor I believe that most of the hits to the home page were, in fact, direct.
But let me give you some more examples.
The cool thing about working with so many websites is to be able to explain to them what this data means and why it's important for their businesses and strategy.
I've highlighted 4 GetSocial customers from different verticals:
A viral videos website
A soccer goals website
An Asian porn website
An online newspaper
I've then created a table where I show, for each website:
Number of visits (last month)
Number of shares via Copy Paste
How many visits/leads these shares generated
% of shares made via Copy Paste
% of traffic doing shares via Copy Paste
% of traffic coming through Copy-Paste shares
This is basically a funnel where I'm looking at (1) how many people share this way and (2) how this contributes to a website's traffic. Here are the results:
Key takeaways from Dark Social data:
A relevant part of the shares is made through Dark Social channels in the majority of the industries where content plays a major role or there are high-quality product pages to share. Also, in more shareable types of content, such as a newspaper (where people share a lot through email our private messaging);
Shares from Dark Social channels have a relevant contribution to a website's traffic. Depending on the specifics of each website this value can be as high as 80%-85%;
Attributing this traffic to direct hits is plain wrong and can jeopardize the execution of a social media strategy or proving its value, economically.
Ready to learn how to track Facebook shares and have a 360º view of your social sharing activity?
Create a GetSocial account now.
---
This post was edited on 11 October 2018.
---
Interested in knowing more about Dark Social & Analytics?
[su_button url="https://getsocial.io" target="_blank" style="flat" background="#21D2B5" color="#ffffff" size="7" wide="no" center="yes" radius="auto" icon="" icon_color="#FFFFFF" text_shadow="none" desc="" onclick="" rel="" title="" id="" class=""]SIGN UP FOR FREE[/su_button]