Imagine putting so much effort into your social media campaign but there's no growth. No new followers, no engagement, no leads and no traffic. Everything you do to shine on social media just doesn't seem to pay off. While this sounds like a nightmare, it's quite likely to happen if you don't use any social media analytics tools.

According to Deep Patel from Social Media Examiner, "auditing key social media metrics can reveal which aspects of your social media marketing are working and provide insight into which areas you can improve upon."

You'd think it sounds obvious, right? But the truth is, many companies don't do anything about it. If you're one of them, read today's post. We're going to show you five awesome social media analytic tools that will make social analysis a butter smooth process.

Native Social Media Analytics Tools
But before we dive into specific tools and platforms that you can check out, you need to know one thing. Practically every single social media platform comes with inbuilt analytics. In some cases they're only available to business profiles – but if you're running a business, then you've probably got your company profile set up already. If not, make sure to create one as soon as possible to unlock all possibilities.

Facebook, Twitter, Instagram and Linkedin come with separate analytics boards that give you a big chunk of useful data. Facebook analytics are likely the most complex ones in this group, but other than that, the differences are minor.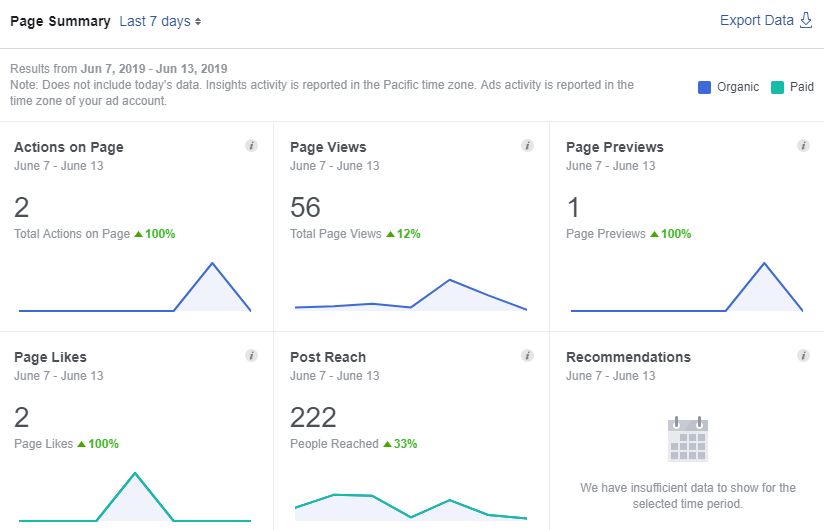 If you understand how one platform works, you'll have it easier to understand the analysis patterns for the rest.
Pros of using native social media analytics tools
Let's be honest, using inbuilt analytics of a given platform is simply a matter of comfort.

First of all, it's free. You get a full package of all available features without spending a dime. No premium accounts, trials or locked features. You make your profile and you're ready to start analysing.

And once you have a tool that you can use for free, you don't have to look for a paid one. Bouncing between social media analytics tools can be a hassle at times. But it's not if you limit yourself to the native tool of your platform.

Last but not least, a lot of these native tools give you an opportunity to take action directly from a post level. If one of your posts grew particularly popular, it's likely that a platform will notify you about it and offer a chance of boosting it (for a modest fee, of course).

Cons of using native social media analytics tools
There's a downside to all of that.
Social media platforms may come with inbuilt analytics, but they're not analytics platforms per se. It means that even with all the functions they offer, they still give you less than tools designed solely for social media analytics.
Their goal and mission is to help you connect with other people, not to analyze the results of your efforts. As such, they'll always fall behind platforms that offer a wider range of functions. Not to mention, they only focus on your social profiles, leaving out your blog and website.

That being said, let's look at all the other options you've got.

Top 5 Social Media Analytics Tools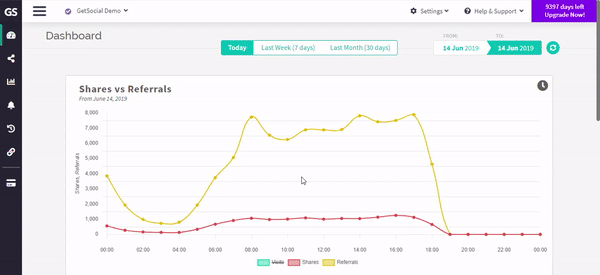 There are many social media analytics tools out there but we're proud to say that GetSocial succeeds where others fail.

You see, you can put social share buttons on your blog post, but that's not enough. Public shares – whether from your website or social media profiles – are but a part of all the shares.

As we said in our post about measuring the effectiveness of social media campaigns, a large part of sharing happens on private channels – such as emails or messengers. It's reasonable. After all, if you want to share a useful article with your friend, you'll send it over a messenger or an email. You won't make a public share on your feed.

This social sharing behavior contributes to Dark Social, which is referral traffic that most analytics platforms will dismiss as being Direct Traffic. Because it's often not properly tracked, Dark Social poses a growing challenge for many businesses who are not sure how they can correctly attribute the source of their traffic.

Most social media analytics tools will not track these private shares. But Get Social will.

That's one of our best functions, but not the only. If you want to make sure you track 100% of your shares and fully understand the ROI of your social media distribution, then GetSocial is your go-to tool. But there's more. We've got additional functions such as viral alerts that will tell you when your posts get particularly popular. Not to mention all the marketing automation solutions that will further assist you in distributing your content.

Sounds good? Sign up for a demo and check it out yourself.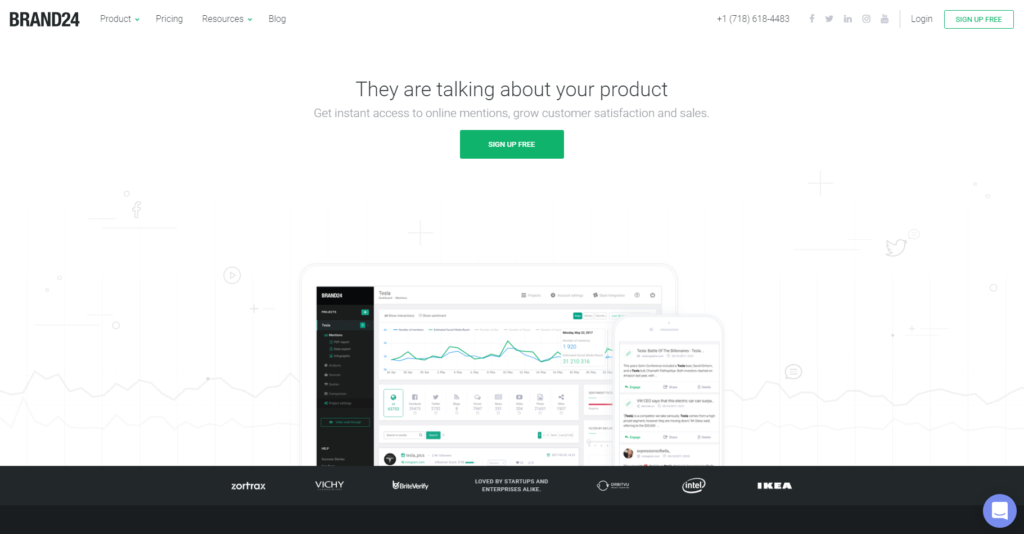 Ever heard of social listening?

If you're not doing it, you're missing out on a chance to hear what people say about your brand.

Tools such as Brand24 assist you in social listening simply by alerting you when someone talks about your product. It goes beyond simple mentions that you can see in your notifications.

There's a whole bunch of data related to what people say about your company, how they react to it and how you react to them. Social listening tools such as Brand24 help you pull all this data among your assets and then automate your further actions on all social platforms.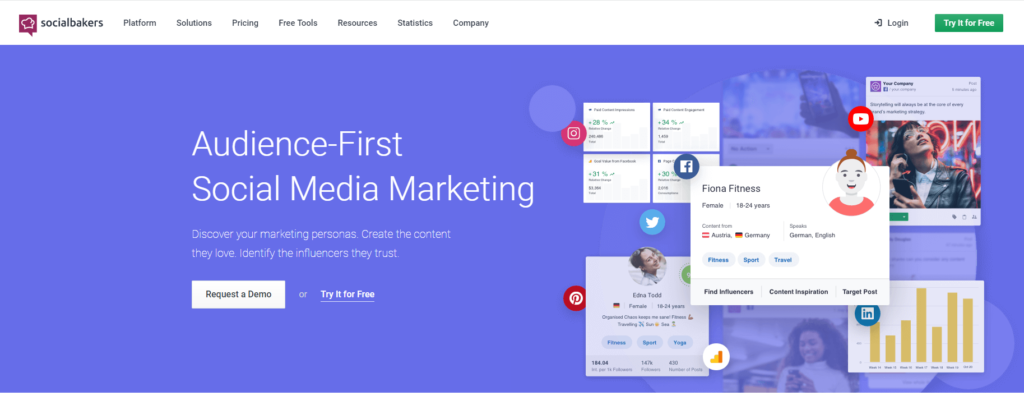 Another useful of types among social media analytics tool is Socialbakers. If you're struggling with creating your buyer personas then this platform is a solution for you.

Its power lies in the AI that analyses the behaviour of your current followers and then creates patterns of interests. With this data in hand, you can grow your knowledge about your following. You discover what your customers like and who they trust. That, in turn, will help you create content they'll love, share and engage with.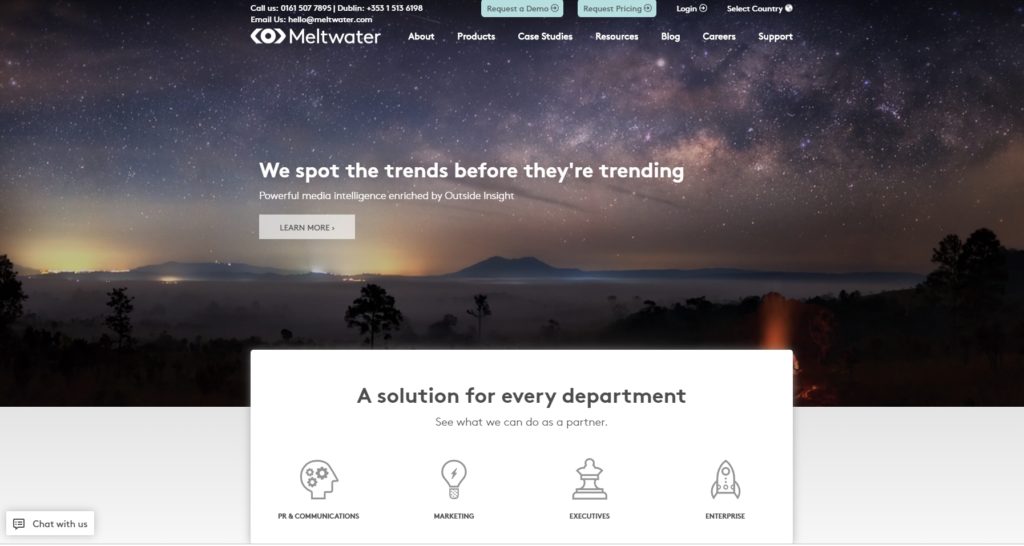 If you're a fan of advanced business intelligence tools, then this one's for you. Likely the most complex on our list, Meltwater offers more than just social media analytics.

They're backed up with AI and a large database that will help you monitor not only your presence in social media, but in media as a whole. Meltwater isn't a simple tool, which can be intimidating, but their package of functions will assist you in social media listening, influencer marketing and PR management.

Keep in mind that for many smaller businesses, this could be an overkill. Good as it is, Meltwater will probably be too much for you if you're looking for a simpler solution.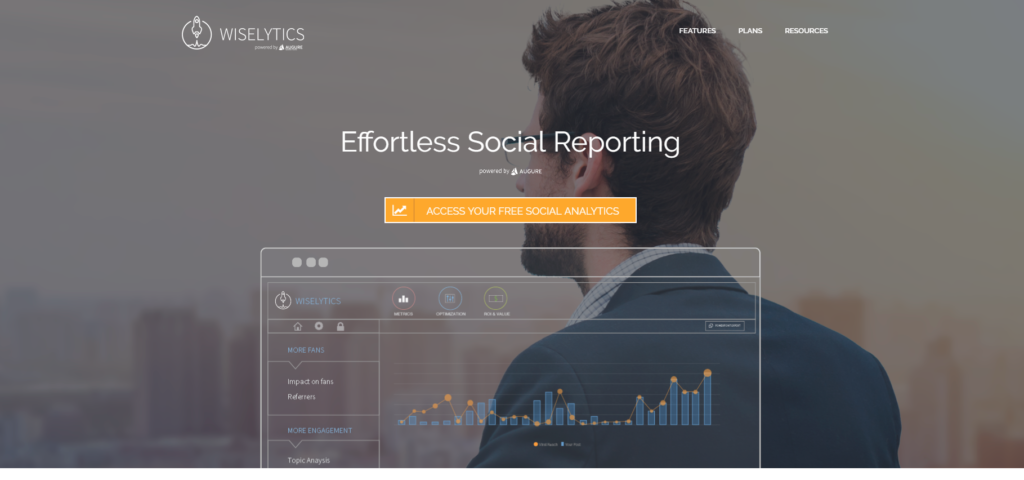 Speaking of smaller businesses, we know how funds can be limited. When you're just starting off, when you're still bootstrapped – every cent counts. That's where free social media analytics tools come in handy. Wiselytic is one of them.

Completely for free, they give you a bunch of analytic options to power up your efforts. There's no trial period, so you can stay on your free plan forever.

Cons? Wiselytics only covers Facebook and Twitter. So if your preferred social media network is Instagram, this probably isn't a tool for you.

Still, it's something to consider, especially if you don't want to throw cash left and right to buy tools which you may end up wasting.
Over to you
The bottom line is simple – name your social media problem, and there's a social media analytics tool that will help you solve it.

If you want to track your dark social – go ahead with Get Social. Lacking funds? Try Wiselytics. Up for some social listening? You'll love Brand 24.

And that's just some of them.

In the end, the best social media analytics tool is the one that answers your needs. Don't copy other businesses. Look inside your own company and ask yourself what do you need to know about your social media presence.

The right tool is out there.
---
Interested in knowing more about Dark Social & Analytics?
[su_button url="https://getsocial.io" target="_blank" style="flat" background="#21D2B5" color="#ffffff" size="7" wide="no" center="yes" radius="auto" icon="" icon_color="#FFFFFF" text_shadow="none" desc="" onclick="" rel="" title="" id="" class=""]SIGN UP FOR FREE[/su_button]