If you're a local publisher or someone who just started out in the publishing industry, you surely are determined to get noticed. You might be running some ads or actively use Facebook, but you're probably wondering whether you're doing enough. Then you notice all those successful publishers on Instagram and ask "can I repeat their success?".

Well, the good news is: yes, you definitely can.

Today we're going to show you how. Get ready for seven publishers on Instagram that rock their profiles and successfully create a community around their feeds.

And, of course, we're going to tell you exactly what you can copy from their strategies!
Why should you use Instagram as a publisher?
If you're reading this, then you're probably half-convinced that you want an Instagram profile for whatever you're publishing. But is this platform even a place for you?

It's true that Instagram is very specific. It's a paradise for fashion, beauty and travel brands. But other industries, such as software, have a hard time getting noticed there. And publishers may just be another example of that.

Don't hit back button on us yet though. There are at least three solid reasons why you SHOULD give Instagram a go:

It's increasingly popular. According to Statista global social media ranking, Instagram already has a little less than half of Facebook's users. Many social media marketers claim that Facebook is passé, especially for younger demographics. Whatever's happening, it's true that the platform is growing, month by month at that. Do you want to miss out on reaching all those people? We think not!

It helps you serve your audience a content easy to digest. Yes, long-form content gets more shares. 300-word posts or articles don't impress anyone anymore. But guess what? Your audience will love short, entertaining videos and easy to digest pictures. And Instagram is simply perfect for this purpose.

It's making it easier to reach new people organically. Reaching new people on Instagram is arguably easier than on Facebook. Hashtags and the Explore page feature are your allies in the battle for new followers. Even without ads, you can leverage a number of tricks and hacks that will scale your audience to an impressive size. But that's a story for another time, and we've covered some of the best tactics to harness Instagram's potential already.
Additionally, Influencer Marketing Hub names five more very technical reasons for having a business profile on Instagram. So if you got one but it's still personal, you should switch to business as soon as possible!

Feeling encouraged yet? Good, because we're about to get to the best part.

Publishers on Instagram that you can learn from
Without further ado, it's time to show you seven brands that mastered the Instagram game. Get a pen and paper and be prepared to note things down!
National Geographic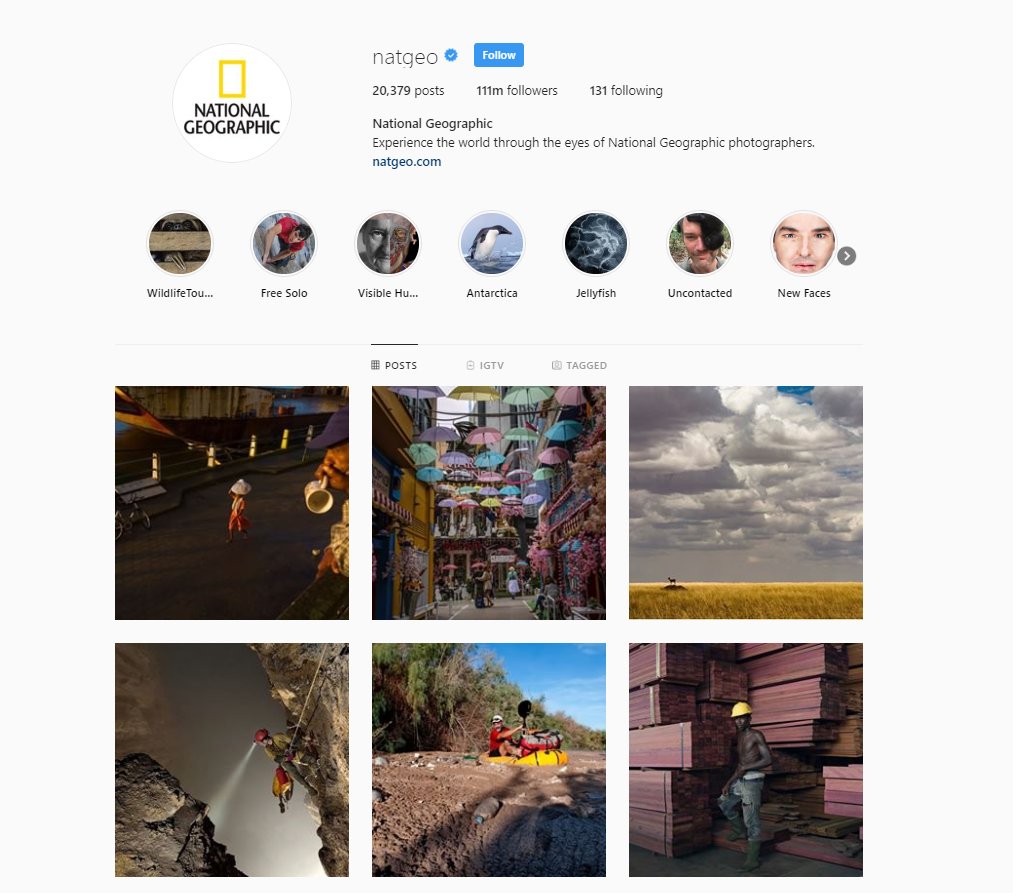 This wouldn't be a proper list of successful publishers on Instagram if we didn't include National Geographic profile.

Online and offline, this magazine is simply best known for its stunning photos. With their photographers being world-class masters of the art, it's no wonder that National Geographic feels so good on Instagram. Each of their posts gathers tens of thousands of likes and hundreds of comments.

Their recipe is simple: the quality.

Alright, it's true that the profile leverages the already established presence of the publisher. But let's face it: it would be nowhere near as popular if they didn't post pictures that make you gasp.

If you want to try and repeat National Geographic success, make sure that every single of your pictures is an art in itself – unique, high quality and captivating with its story.
Inc.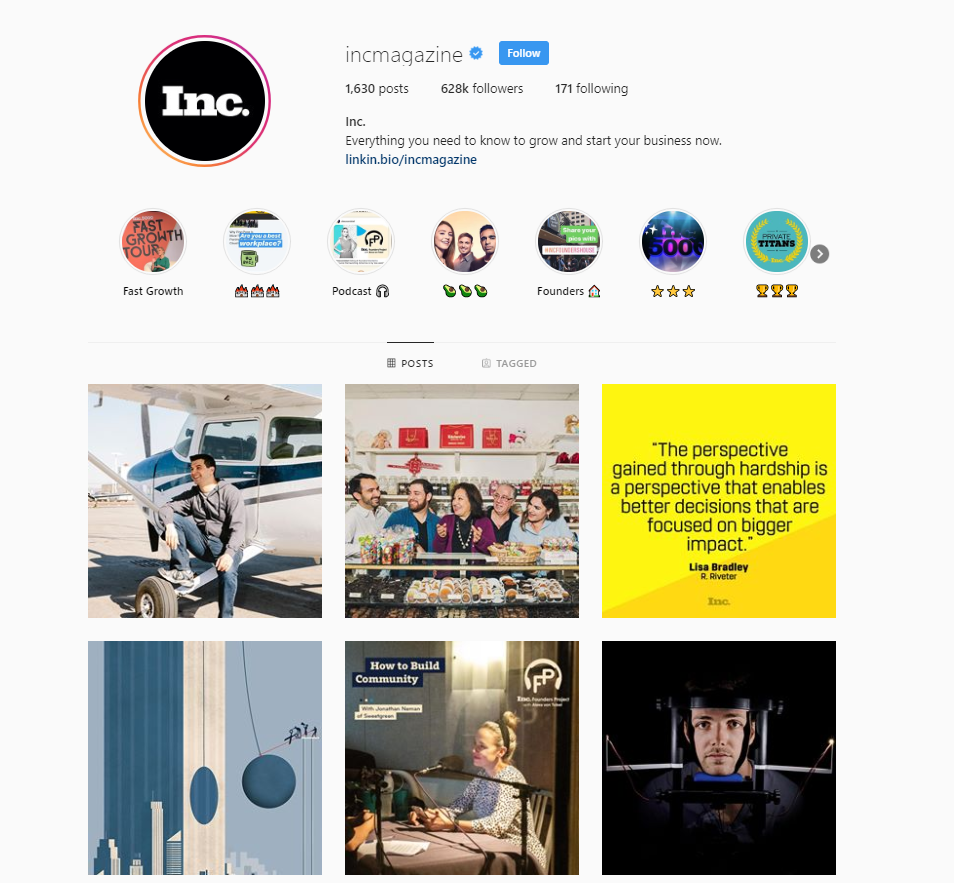 What would you expect from a business magazine Instagram profile? Stock photos of teams and entrepreneurs?

If so, then Inc. Instagram profile will prove you wrong.

Their feed is a mixture of eye-catching graphics, quotes and portraits. The last element is key. These portraits present none else but people that Inc. writes about. With each post, they're serving you a teaser caption that just makes you want to read the article.

If you're doing interviews as a publisher, don't hesitate to present your guests on Instagram. Sprinkle it with a captivating description to drive traffic back to your page.

And if in doubt, you can always throw in a quote. On Inc.'s feed, they belong to some of the most liked pieces of content.

Entrepreneur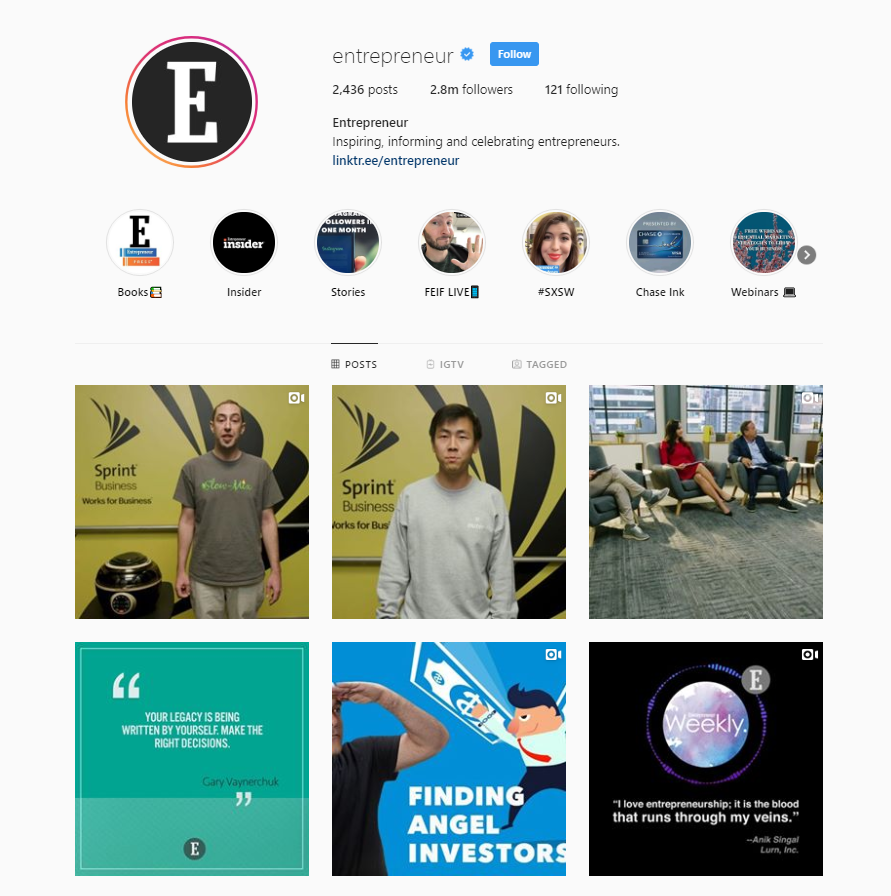 Entrepreneur's Instagram profile is another example that a business-related publisher can create compelling content for this visual platform.

Alike with Inc., they present a portion of their stories in their feed. But here's the difference: the power of Entrepreneur's profile lies in videos.

Practically every single post they make is a short clip. Almost no pictures, graphics, or magazine covers. Only short, engaging videos. And they turn out to be tremendously popular, gathering up to tens of hundreds of likes.

Videos on Entrepreneur's profile can inspire you to do the same thing. Whether you'll snap an interview intro or release an article teaser, try to serve it as if you were serving a movie trailer. Who knows if your audience won't fall in love with it?
Men's Health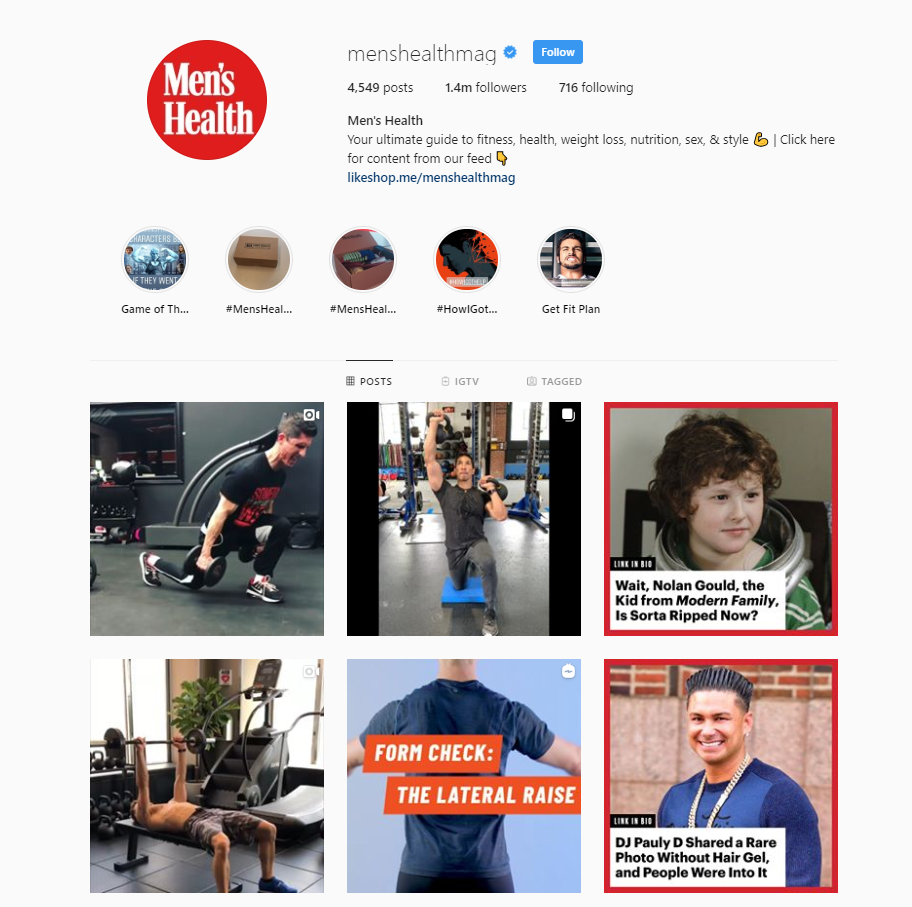 You're going to have it a little easier if you're a publisher from industry such as Men's Health. Chances are, your visual content is already attractive, especially if you create it yourself. So why not to put it on Instagram?

But there's more. If you look at Men's Health profile on Instagram, you'll notice their content isn't only good looking. It's also educational.

Did you see these short videos covering workout routines? Followed by short and down-to-earth instructions in the caption, they're the most eye-catching element on Men's Health Instagram feed.

They're not hard to recreate. If you've got the resources, you can record brief training videos and fill your Instagram profile with content people will love to learn from.
People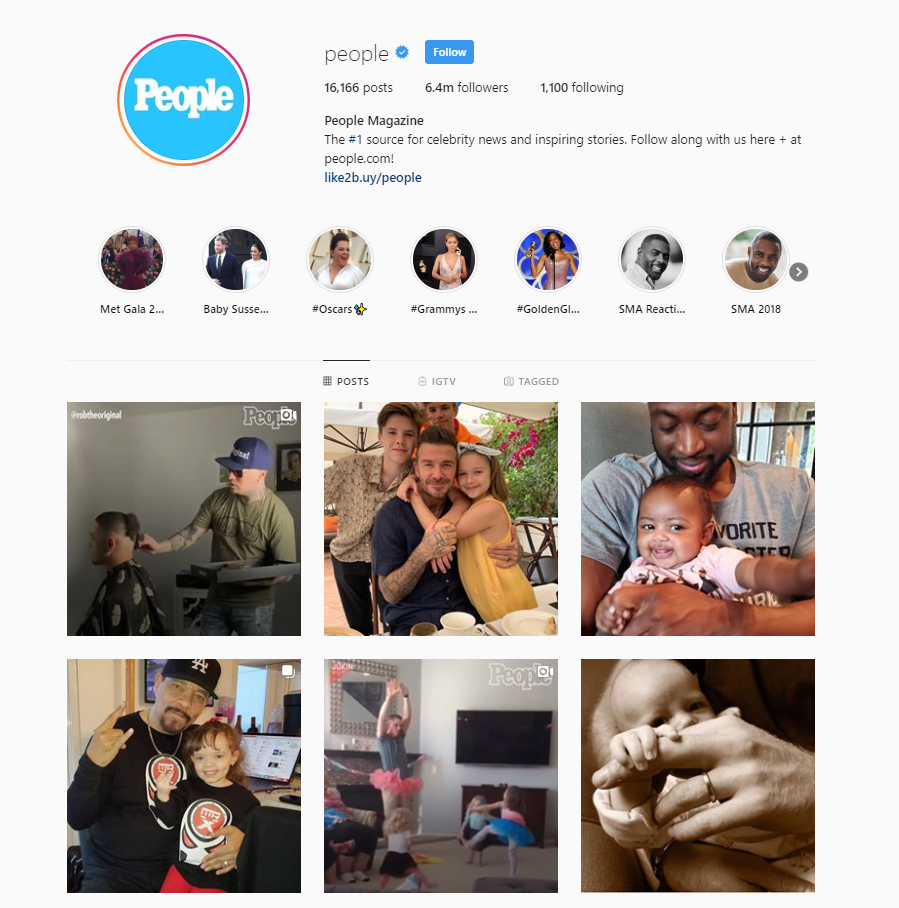 The world's most popular celebrity news magazine has over six million followers on Instagram.

People's profile is full of famous faces – as you'd expect. While their photos catch your attention with snaps of celebrities that people love, they're also delivering entertainment by turning their captions into mini new posts.

Every picture gives you a small insight into what's happening. Technically, if you're too lazy, you don't have to consume a whole lengthy article because People's brief caption is enough. And that's the definition of light and easy to digest content.

Bon Appetit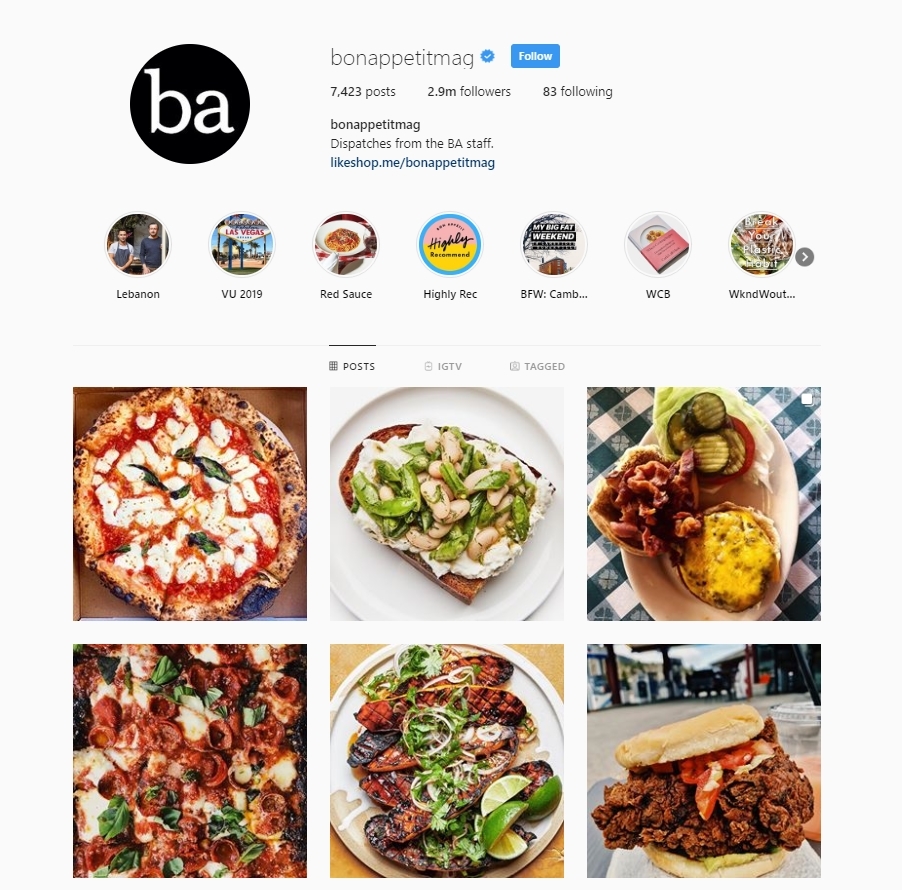 Your fridge better be full right now because these guys are going to make you hungry! Bon Appetit's Instagram profile serves you beautiful and appetizing pictures of meals to die for.

What they do is a variation of what National Geographic does. If you ever tried to take a snap of your morning pancakes or a cup of mochaccino you drank on vacations, then you know it's never easy. Food photography can be a cruel and demanding mistress – if you don't get it right, you'll end up putting your audience off rather than encouraging them.

And it applies to everything else. If you want to devote your feed to a particular item – food, clothes, coffee, flowers or whatever else – focus on mastering the art of taking pictures of that object. Take courses if need be. Success is often about being super specific and holding a laser focus. It works for many publishers on Instagram so don't be afraid and try it out yourself.
Car and Driver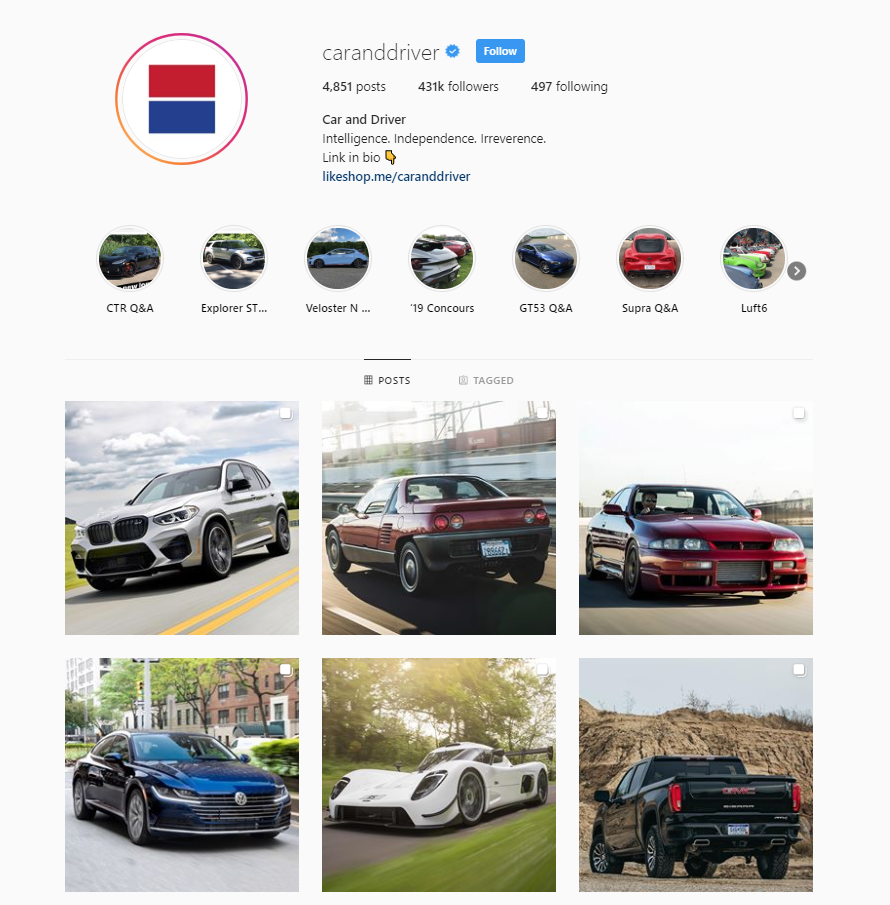 You could say there are two basic golden rules not only for publishers on Instagram but for Instagram users in general: create your own content and don't overdo the edits. If that was true, Car and Driver's profile wouldn't be too successful.

But they are and they're proving you that your feed's content can be more catalogue-like if needed. The car industry has its own way of picturing vehicles. Sometimes it may not resonate with the idea of publishing pictures that don't look like they've been heavily edited.

Before you use catalogue-like pictures on your profile, make sure they'll work with your audience. Make your caption unique and personal, tease the long-form content or give specific info about the item in question – just as Car and Driver throws in technical info about the cars.

Experiment and see what works better with your audience. Heavy edits or natural look will work differently with different audiences. It's up to you to see what will make your profile successful.
Instagram strategy for publishers & best practices
Feeling inspired to get your business profile up and running on Instagram? Cool, but it's not enough. There's still so much more you need to do. Checking out more experienced publisher brands is only a beginning.

Social Media Strategy for Instagram
A social media strategy is one of the most important elements to consider if you want to establish your presence on any social platform. We've gathered up a few examples of brands doing a great job in this department. And while these are mostly B2B social media strategies, we strongly recommend you check it out.

In short, you need to know what is it that you're trying to do on Instagram. For publishers, it's mostly leading more traffic to the main website. It's likely yours will be the same case but you still need to prepare a strategy for whatever goal you pick.
Best Practices for Instagram posting
Besides the strategy that you want to follow, there are several best practices that many publishers on Instagram stick to. We've already listed a few of them above, but let's break it down once more for full clarity.

Have a theme. Don't post everything and don't write about everything. Even if you're publishing pieces on completely different subjects, make sure your Instagram profile has a set theme. The Entrepreneur magazine makes videos – what can you make?

Invest in content that is visually astounding. We've said that about National Geographic or Bon Appetit and we will repeat it again: good visual content is king on Instagram. Keep it original and high quality.

Don't neglect captions. Images are good but it's captions that drive discussions and activity on your feed. Ask questions and start conversations with your audience. In case you struggle with visuals, a good caption will save the day.

Provide value. Sparkle curiosity in your followers, provide them with useful hacks, educate them. Entertainment is also value. If you make your followers smile, your content counts as valuable.

Don't use your Instagram profile only to provide links. Chances are that your Instagram profile will serve as a traffic funnel to your website. But even if that's its purpose, don't stop there. Add something unique, like pictures or videos that can't be found anywhere else.

Monitor and improve. Experiment with your content and analyze your audience. With tools such as Get Social, you can easily monitor what kind of content is most popular among your followers and automatically share it with them.
Conclusions
Instagram isn't a place where all brands are equal. It's never been a secret that aesthetically pleasing things will always win the user's heart.

You'd think publishers on Instagram are in the losing category, but that's not true. From National Geographic to Entrepreneur or even Bon Appetit, there's more than enough proof that you can succeed as a publisher on this heavily visual platform.

It is – as is often the case – simple but not easy. Create an aesthetically pleasing content, leverage videos, educate, entertain and engage your audience. Get to know the platform and what it can do for you. There's no one size fits all – every profile has to discover their own path to success. But one thing's for sure – with the examples we've shown you, it's definitely going to be easier for you.
---
Interested in knowing more about Dark Social & Analytics?
[su_button url="https://getsocial.io" target="_blank" style="flat" background="#21D2B5" color="#ffffff" size="7" wide="no" center="yes" radius="auto" icon="" icon_color="#FFFFFF" text_shadow="none" desc="" onclick="" rel="" title="" id="" class=""]SIGN UP FOR FREE[/su_button]