In June 2018, Instagram was reported to have 1 billion monthly active users. One year later, I think we can safely assume that number has not decreased in the slightest.

Statista also reports in April 2019 that Instagram is one of the top 6 most popular social networks worldwide. In the social media network sphere, we only find Facebook and YouTube above it, while the remaining are private messaging apps.

We cover the increasing importance of private messaging apps for businesses pretty often on this blog. Whether we're talking about Dark Social or Facebook's decline, it's no lie that private interactions are the future.

But we're not here to talk about that today.

Instead, we're going to explore the possibilities that Instagram offers for publishers to distribute content. There's great potential to Instagram, most of which has generally not been explored by publishers, who prefer to stick to more traditional channels such as Facebook and Twitter.

Why Instagram and where to start?
If the statistics above don't impress you much, don't worry, we've got more for you.

A recent report from eMarketer predicts Facebook users will spend an average of 38 minutes per day on the platform in 2019. Their forecast was initially 2 minutes higher but has since been changed, with no predictions that it'll improve.

Instagram, on the other hand, has been steadily growing for years. The average time per day on the platform was 22 minutes in 2016. In 2019, it's 28 minutes, and predictions say it will increase by 1 minute in 2020.

What does this mean?
Simply put, slowly but surely, people are spending less time on Facebook and replacing it with Instagram. And that should come as no surprise, considering Facebook is openly discouraging passive consumption of content on the platform.

On the other hand, Instagram is a platform naturally made for sharing content. Although that content was initially just photos, it has since grown into something much bigger.

It took a while for brands to adapt to this and figure out how to thrive in such medium. But nowadays with Stories, influencer marketing, and paid ads, social media strategies have managed to incorporate Instagram.

All in all, it's hard to argue against the notion that Instagram is the perfect place for engagement.

Even through our own research, we've seen that recirculation from shares made on Instagram is 14% (on average). It's the third highest source of recirculation, while Facebook and Twitter are the lowest of all.
This means that when people come to a publishers' website through Instagram, they're more likely to view more than the page they initially landed on. They're interested in other articles, they interact with other parts of the website. They monetize their session.

So who says publishers can't rock Instagram?

Better yet, what you really want to know is: how can they do it?

We've got 3 great tips that publishers can follow to grow their referral traffic from Instagram.

#1 – Instagram Stories
Instagram Stories now has around 500 million daily users. That sounds like a pretty impressive number, yet not everyone is taking advantage of these 15 seconds of content display.

Succeeding on Stories involves time and money to create compelling content. This, granted, is not abundant in a lot of digital publishing brands.

Still, there are a few examples that should inspire any publisher.

According to their case study on Instagram's Business blog, Vogue has had pretty great results with the platform. Their Instagram channel is getting more impressions than the website and their advertising campaigns have driven incredible results.

With intense investment comes great ROI. When the numbers are there to prove it, it's easy convincing Vogue's stakeholders of Instagram's potential, which results in more opportunities for the brand to test new ideas.

Their campaign for the 2018 September Issue, besides helping the magazine sell out, was directly responsible for 20% of new subscribers.

Now, not everyone can get Beyoncé on their cover to help sales, of course. But there are other great takeaways from this publisher's advice.

Tips for Instagram Stories
Video content is king. Video consistently has higher click-through rates than still photos.
Test, test, test. Take advantage of the fact that stories disappear after 24h to test different approaches as much as you want.
Add 'swipe ups'. Verified accounts or accounts with at least 10k followers can attach links to their Stories by encouraging users to "swipe up" to be redirected.
Offer exclusive content. In Vogue's case, they had Beyoncé to compete against all other fashion magazines who didn't. You can just as well offer exclusive content on your Instagram that either 1) your competitors don't; 2) you're not offering on the website.
Use stories and feed differently. Vogue tends to be more serious when posting on the feed, whereas they maintain a more casual and playful attitude in the stories. Animoto has a great infographic that highlights this.
#2 – Linking in the bio description
Instagram doesn't allow users to share links in posts or comments. To get around this, brands share links in their profile's description and bring your attention to it by captioning their publications with "link in bio".

To facilitate this strategy, several brands such as linkin.bio and likeshop.me now allow publishers to have the link in their bio direct the user to what's essentially a copy of their feed. Except each photo contains a link that directs the user to the story in question.

The crucial part about this strategy is understanding the ROI.

To prove the effectiveness of Instagram as a social media channel for your brand, your analytics should tell you how much traffic these links are generating. And the results will not only indicate Instagram's worth, they'll also give you insight into the best performing stories.

From here you can begin to understand if there are significant differences in what content has the most success on Instagram vs. other social media channels, as well as your own website.

Most publishers will use extremely long links with several UTMs in order to identify Instagram as the source of their traffic. Although we enjoy our fair share of UTMs, we've pointed out how their ultimate flaw can mislead you and harm your attribution efforts.

With platforms such as GetSocial, you can correctly attribute 100% of your traffic, even what's coming from Dark Social channels (private messaging apps) and uncover your ROI.

Tips for linking in the bio
Use tools such as linkin.bio that allow you to include links back to your website on each of your posts.
Keep in mind that tracking ROI is the most important part of this strategy. The real work begins after Instagram, in your analytics dashboard. UTMs are a great way to attribute traffic, but understanding how users recirculate, share and convert is crucial for smarter insights. GetSocial gives you information that helps you understand your audience and their sharing behaviors more effectively.
#3 – Instagram Ads
One of the great things about Instagram Ads is that you don't even need an Instagram account to create them.

There are 3 ways you can advertise on Instagram:

Directly from Instagram – with a business account, you can promote posts and stories from your Instagram account
From your Facebook Page – if you do have an Instagram account, you can associate it with your Facebook account and create ads from your page that appear on both platforms
From Facebook Ads Manager – if you don't have an Instagram account, you can still create ads for this platform using Ads Manager. Even easier if you're already familiar with Facebook advertising. You can choose to promote exclusively to Instagram or Facebook as well
Ads tie in perfectly with Instagram Stories, which we have just brought up. You'll find several success cases on Instagram's blog such as Dunkin, who had a 20% lower cost per video view with the polling sticker feature. Moreover, 20% of people who watched the ad, voted on the poll.

But there's more beyond your own Stories and feed posts!

As of June 4th, Instagram is allowing brands to boost organic posts as ads. This means that accounts who create posts with the 'paid partnership' tool now have an option to 'allow my business partner to boost'. With this feature, brands can reach larger audiences beyond the users that follow the accounts involved in the partnership.
Tips for Instagram Ads
Make your ads feel as natural in a user's feed as possible. When ads are carefully and well put together, users are more easily persuaded to forget they're ads, leading to higher CTRs.
Invest in video content and ads that encourage engagement for higher ROI that's more easily traceable.
As it is with ads in any other platform, it's crucial to define the objective beforehand and keep it in mind while creating the ad. For Instagram, 8 out of the 11 usual objectives are available: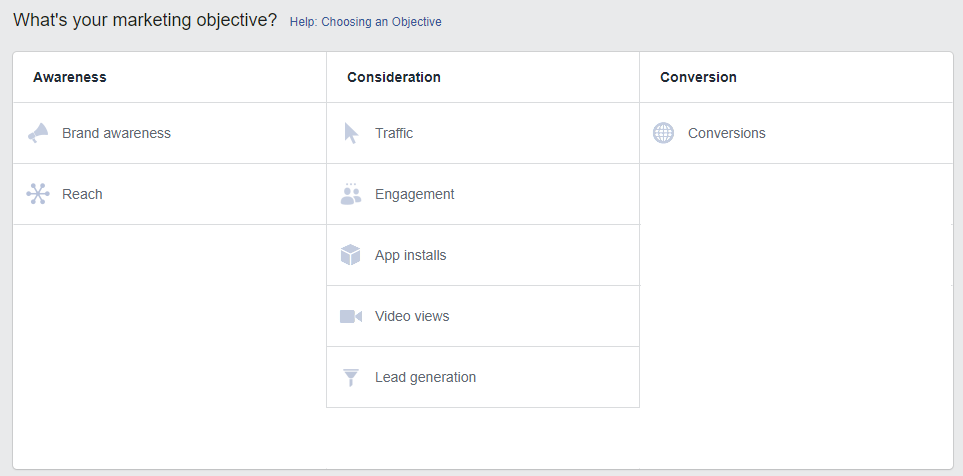 Final notes on Instagram for Publishers
Instagram does not come without its downsides, of course. At the end of the day, being one of the most popular social media channels means it's constantly changing.

Its innovative nature can bring uncomfortable changes sometimes. Just recently, Instagram was testing removing "likes" from photos as an effort to make people care less about social validation. This could be a red flag for many businesses who look at such metrics to define success.
Still, publishers should know best that content analytics go beyond likes.

Despite its few downsides, Instagram opens a lot of interesting opportunities for publishers to focus their efforts on less traditional platforms.

Are you a publisher already using Instagram? How successful do you consider your efforts on this platform compared to other social media channels? Let us know in the comments!

---
Interested in knowing more about Dark Social & Analytics?
[su_button url="https://getsocial.io" target="_blank" style="flat" background="#21D2B5" color="#ffffff" size="7" wide="no" center="yes" radius="auto" icon="" icon_color="#FFFFFF" text_shadow="none" desc="" onclick="" rel="" title="" id="" class=""]SIGN UP FOR FREE[/su_button]