There's something that social media marketers often don't want to admit: even if they hear about strategy planning a lot, they are frequently clueless about how to approach the planning. If that's your problem as well, you're welcome to stay – because today we'll give you some solid social media strategy examples that you can easily copy for your B2B company.
But hold on! You might still be wondering what's the big deal with a strategy in the first place.
The answer is super simple. If you don't know where you're going, you can't pick the right route. And you can't check along the way if you're headed in the right direction.
Strategy defines not only your destination but also the route you need to take. Without it, you don't have the clarity of vision and you're prone to deviating from your path.
As a result, you're going to waste your time and energy on things that don't move the needle for your business and don't contribute to your long-term goals.
So how do you set the right strategy? By picking the right goals that truly matter for your business, of course.
We've handpicked a collection of social media strategy examples that you can learn from.
7 Incredible B2B Social Media Strategy Examples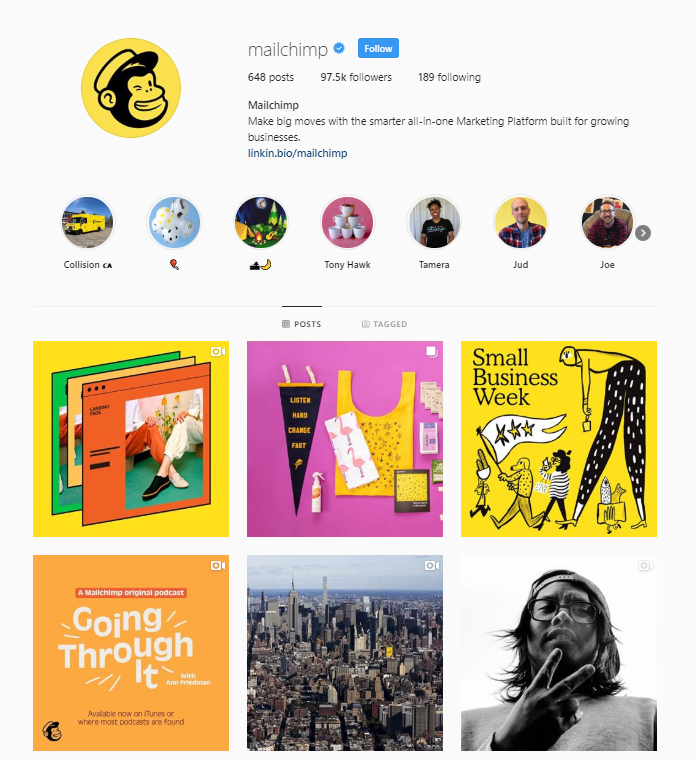 Strategy elements: brand awareness and branding
If you're running a B2B business, then it's likely that your product isn't, simply put, pretty. It may be a service or an app that simply doesn't have any physical appearance. Such products, by default, have a hard time on Instagram.
But have you seen Mailchimp profile on Instagram? They're a proof that you can rock the Instagram game even if you don't sell a physical product.
With over 97 thousand followers, MailChimp can boast about the engagement they're getting and their solid presence on the platform favoured by the beauty and fashion brands.
How do they do it, though? Well, if you look at their profile, you will see that the branding is strong there. Their trademark yellows and monkey-themed pictures are humorous and entertaining. MailChimp actively uses gifs and short videos to build a strong brand presence. There aren't Instagram-styled, classy pictures and cartoons dominate the whole layout.
And that's what makes them stand out.
What you can learn from MailChimp?
don't be afraid to go-half serious; aim for a balance between professionalism and humour
don't neglect branding; your colours, logo and message style can help you stand out
use videos in a fun and creative way that sets you apart from your competitors
experiment with platforms unpopular with your type of product or service; there's a chance in them for everybody who plays the game right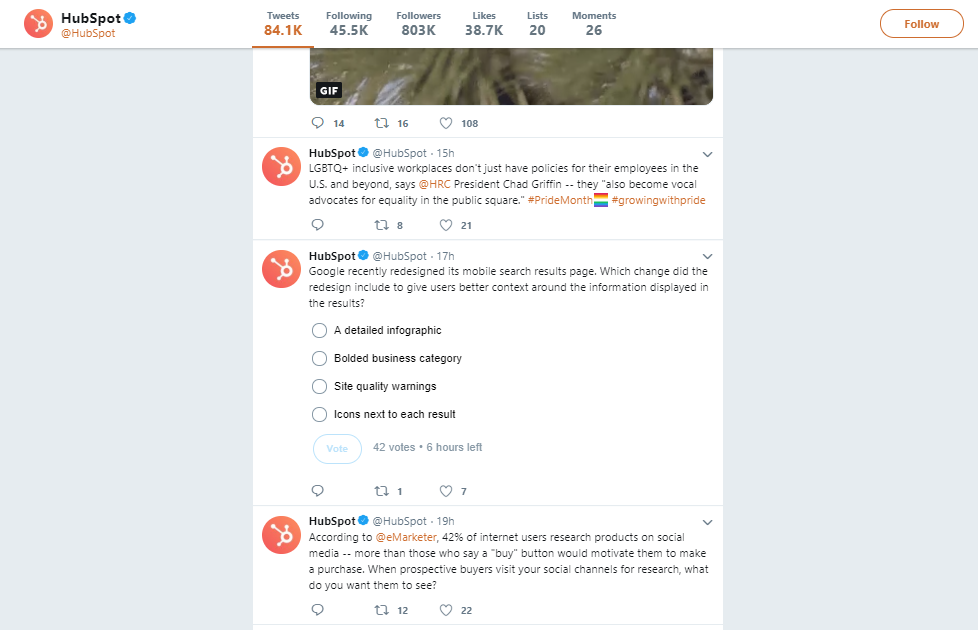 Strategy elements: brand awareness, customer education, customer support
HubSpot is a fantastic example of tailoring your content to a platform.

If you look at their Twitter profile, you'll see they successfully leverage the platform's noisiness. With the high frequency of posting, they're making sure their message gets through and arrives in your feed. This guarantees that their followers will stay in touch with the brand on a daily basis.

Hubspot is also a perfect example of using dynamic Twitter style to deliver customer support to their users.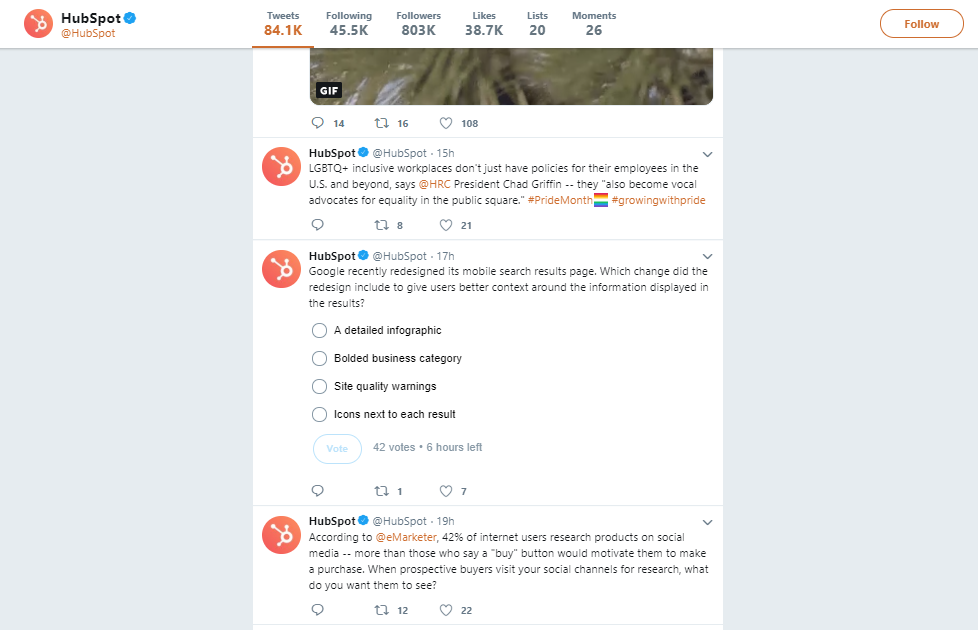 But there's a plot twist on HubSpot's Facebook profile. They post less but they're carefully picking their content for this channel. Their Facebook posts are educational and inspirational, helping their customers grow their businesses – and they are particularly fond of native Facebook videos for maximum reach.
What can you learn from HubSpot?
increase your brand awareness by being active on social media – with the frequency of posting tailored to the given platform
use social media as a support channel to make reaching out to you easy for your customers
leverage native functions of your platforms such as videos on Facebook or gifs on Instagram
don't focus on promotion only – educate and inspire your customers in a variety of ways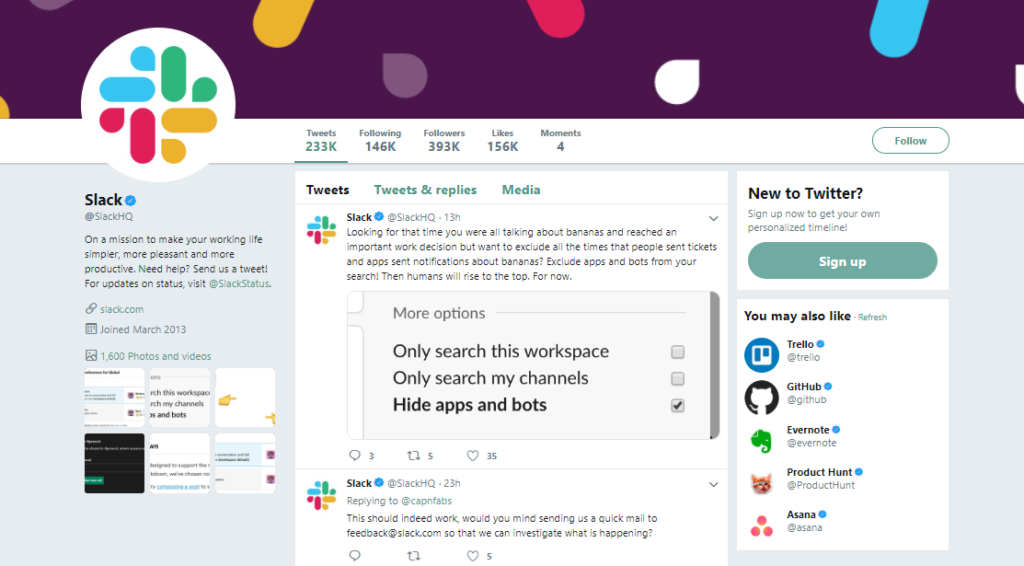 Strategy elements: maximising reach and online presence
Slack is one of the most curious social media strategy examples. When you look at their social media profiles – particularly Facebook and Twitter – you probably won't notice anything outstanding. At first glance, at least. But here's the thing: Slack breaks one of the holy rules of social media marketing which is posting different content to different channels.

For some businesses, however, it may work. If you suspect you have different people following you on different channels, then sending out the same message to each of the platforms will help you reach all your customers.

This strategy will also come in handy if you don't rely on social media as heavily when it comes to your marketing efforts. It's also particularly easy to set up with social media marketing automation.

What can you learn from Slack?
sending out the same messages to different platforms isn't necessarily a bad thing
find out what works best for your business: tailoring more content to different channels or unifying it across all platforms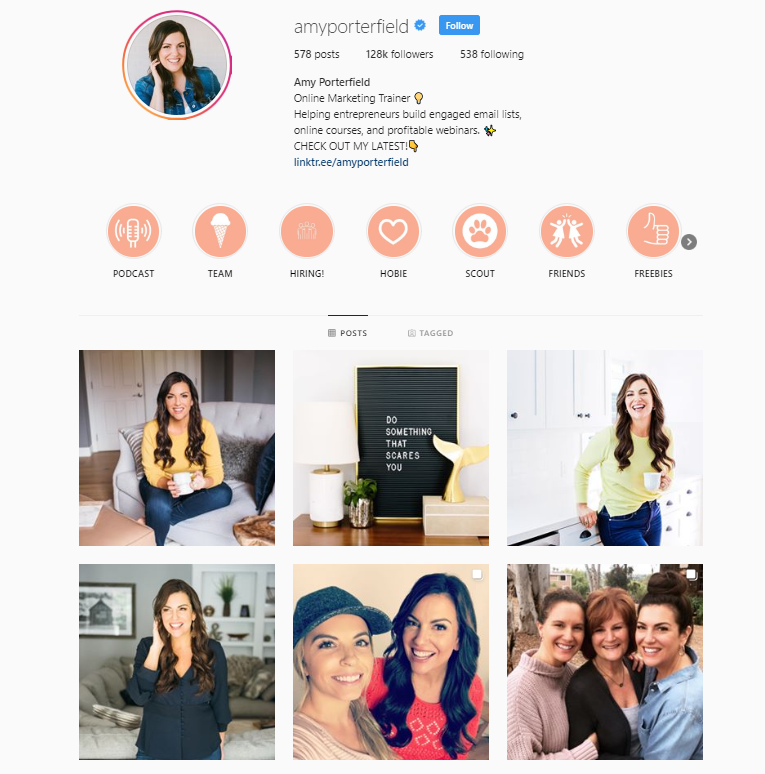 Strategy elements: lead generation, branding
Every week, tens of thousands of entrepreneurs tune in to listen to Amy Porterfield's podcast. She's teaching them how to grow an online business. And she lives by what she teaches.

She's a perfect example of using social media marketing for lead generation. But it's not your standard content that you see elsewhere. Amy Porterfield is making the most of Facebook live events, successfully generating leads for her mailing list and the courses she sells.

But there's more. She's also someone to look up to if you're interested in creating a personal brand for your company. If you look up Amy's Instagram profile, you'll see it's full of casual, inspirational and compassionate posts that everyone can relate to. All thanks to her creating an image of a person just like anyone else, with flaws and weaknesses
What can you learn from Amy Porterfield?
leverage social media live events to drive traffic to your product or email list
create a personal brand behind your product by being someone people would like to hang out with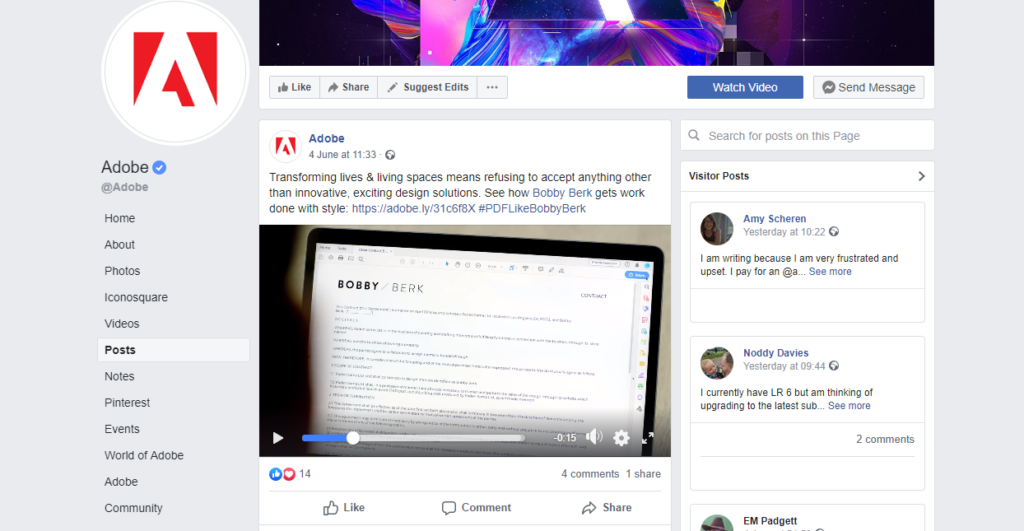 Strategy elements: customer education
This wouldn't be a good list of social media strategy examples if we didn't include someone who mastered customer education. In this case, we're talking about a creative's best friend, Adobe.

Yes, they definitely have a stunning Instagram profile full of pictures that showcase just what you can do with their software.

But the core of their social media presence lies in their Twitter and Facebook profiles which educate and inspire their customers. This is particularly important if your product isn't a simple one or when you offer a software suite.

Only by following Adobe's profile you can develop your professional skills with their products and learn all the tricks of trade related to their software.
What can you learn from Adobe?
educate your customers on how they can use your products
present case studies, tutorials and interviews related to your niche
inspire your customer base to develop their skills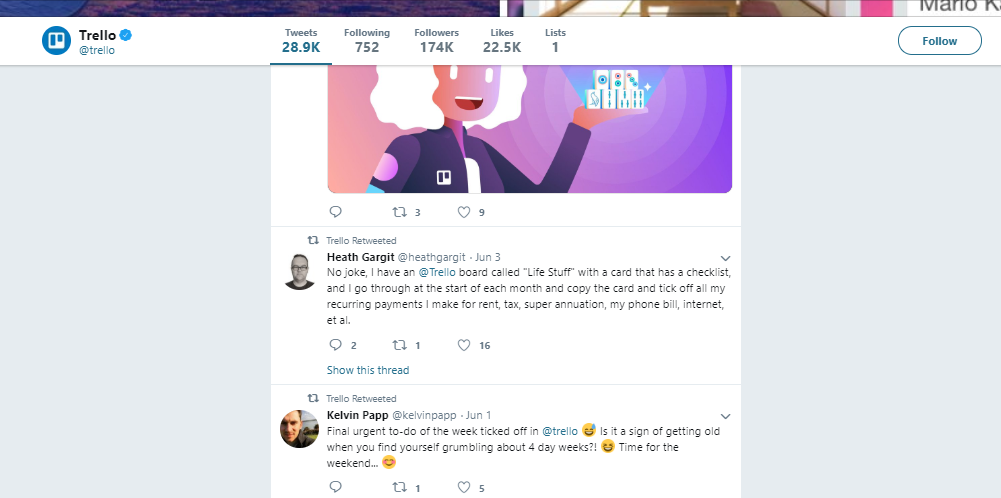 Strategy elements: social proof

Trello, which is by far one of the most popular projects management platforms, gives us two inspiring social media strategy examples: creating social proof and using branded hashtag for customer engagement.

If you check out their Twitter profile, you'll see they regularly retweet positive Tweets that refer to Trello. As a result, anyone who follows them on the platform will often see other people praising the product. And this is a fantastic way to establish your social proof and increase your online credibility.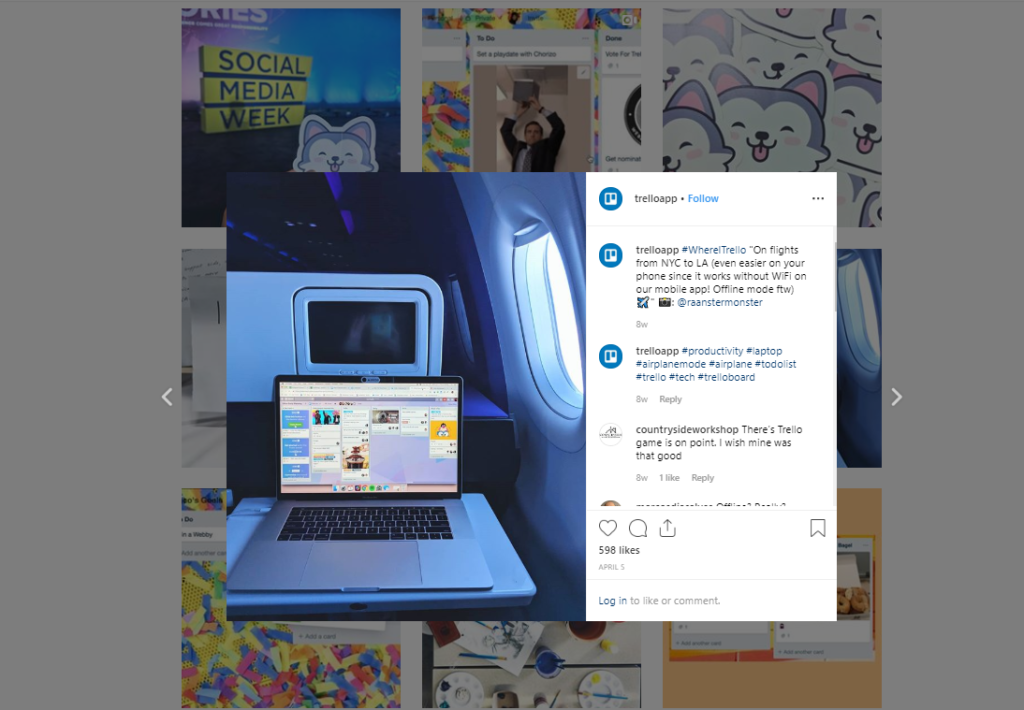 But they're engaging with their customers in another way, too. Trello came up with their own branded hashtag for Instagram – #WhereITrello. What they do is repost customer-generated content on their feed. And by doing so, they showcase their product in action, used by people all over the world.
What can you learn from Trello?
leverage user-generated content such as Tweets and Instagram shots
develop your branded hashtag
share positive responses from your customers on your social channels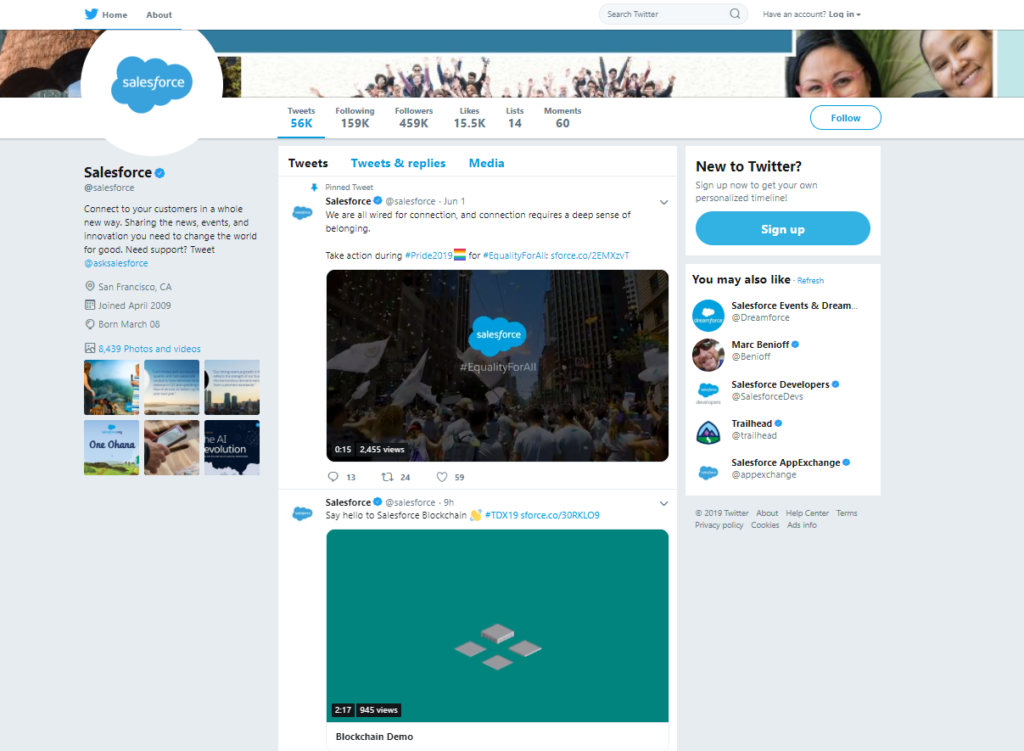 Strategy elements: branding
The last of our social media strategy examples is Salesforce and their impressive branding. But not just any branding – it's branding by sharing the faces of people who create their software.

Whether you visit their Facebook, Twitter or Instagram, you will see that pictures of their team dominate these channels. They talk less about their product and more about what they're involved in, what events they take part in and what they care about.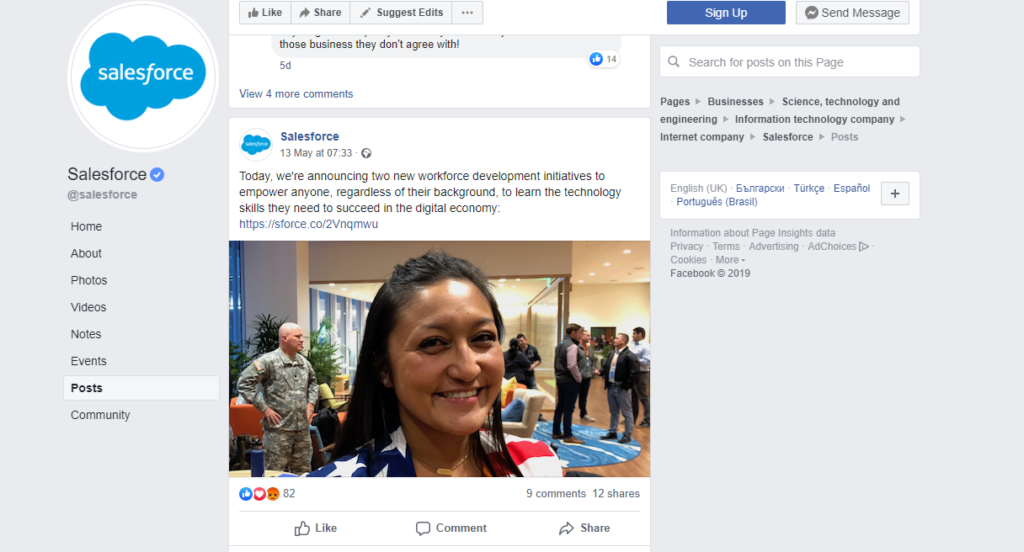 Remember that people want to connect with other people, not faceless brands. Salesforce makes the most out of this rule. They show you that there are faces, feelings and values behind one of the world's biggest CRMs.
What can you learn from Salesforce?
show people behind your product to appear more human
add personality to your brand by showing what's valuable for you
showcase events you take part in and things that are important to you
tease your audience by revealing a little of how your product is made or how your services are delivered
What's your social media strategy choice?
There's so much you can do if you follow any of these social media strategy examples. But remember – you can only be successful when you pick the goals which are relevant to your business. Whether it's going to be branding, lead generation or customer education – it's your choice. But make sure you know what you're aiming for and how you'll make it happen.

---
Interested in knowing more about Dark Social & Analytics?
[su_button url="https://getsocial.io" target="_blank" style="flat" background="#21D2B5" color="#ffffff" size="7" wide="no" center="yes" radius="auto" icon="" icon_color="#FFFFFF" text_shadow="none" desc="" onclick="" rel="" title="" id="" class=""]SIGN UP FOR FREE[/su_button]